On Thursday 2nd March we will celebrate World Book Day, during form time & PSHE students will complete World Book Day related activities.
Please find below the official World Book Day Token which entitles students to a FREE book from the list below (see link):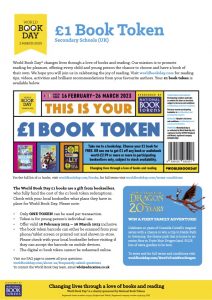 The token can be shown on a phone (or printed out) at participating retailers in exchange for the free book.
Retailers include:
ASDA
Morrisons
Tesco
Sainsburys
The Works
Waterstones
WHSmith
The token is valid from 16th February 2023 – 26th March 2023, so it can be used straight away.
Thanks in advance for supporting our Whole School Reading Strategy "SFX Reads" & World Book Day .