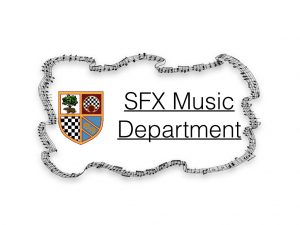 Our Vision:
The music department at St. Francis Xavier's College aims to make sure that all pupils have the opportunity to learn one of the highest forms of creativity. Music is a universal language and we as a department ensure that all pupils receive a high quality music education through inspiration and creativity. All pupils have the opportunity to increase their knowledge, self-confidence and achievement through performing, composing and listening. We strive to inspire pupils passion for music and to develop their talents as a musician.
Curriculum Intent
The main intent of musical learning for all students here at SFX are the following:
creativity 

enjoyment 

active learning 

inclusion 

skills 

opportunities to make music together
Curriculum Implementation
Our curriculum covers the different key areas of composition, performance and appraisal. The nature of the delivery means that key skills are constantly revisited and key terminology is regularly embedded within the work that our students produce.
Curriculum Impact
The study of music at SFX will engage and inspire pupils to develop a love of music and their talent as musicians. It will also Increase their self-confidence, creativity and a sense of achievement. Pupils will also develop a critical engagement with music, allowing them to compose, and to listen with discrimination to the best in the musical canon.
Staff:
Mr D Stokes (Coordinator of Music)

Mrs S Steff
Music Peripatetic Staff:
Mr D Mansfield (College Organist) (Piano, Organ & Theory)

Mr D Rogers (Guitar, Bass, Drums, Piano, Music Theory, Music Production & Technology)

Mr J O'Hanlon (Guitar)
Mr D Gannon (Strings)

Mr J Lewis (Woodwind)

Mr D Dunn from Mode Training (Dj'ing & Music Production)
KS3 Curriculum: In music at Key Stage 3, pupils develop the skills, knowledge and understanding required to be a musician, through a series of practical units built around themes as diverse as Jazz & Blues, Film Music, Folk song. A firm understanding of the standard conventions of staff notation underpins all of the practical work undertaken, and pupils learn to apply this to instrumental performance focusing on graded keyboard work. Singing is also an important aspect of music at Key Stage 3. The skills which pupils develop in Key Stage 3 are designed to enable them to continue their study at Key Stage 4 without necessarily needing to have had private instrumental lessons (although many do).
KS4 Curriculum: Whether we are listening to our iPods, watching the TV or playing computer games, music is everywhere. Some people really enjoy making music as singers or instrumentalists and some simply enjoy listening to it; however we use music, it plays a big part in our lives. In Year 9 we offer a foundation year in music history to prepare pupils for GCSE study; this covers a wide range of musical styles and techniques in listening, performing and composing. We also look at the historical context, exploring the purpose of music throughout history. The course studied in Years 10 and 11 is the Eduqas GCSE Music which is designed to offer you the opportunity to develop your knowledge, understanding and skills in Performing, Composing, Listening and Appraising. There is considerable flexibility in the course, allowing you to follow your own musical interests and aptitudes, including popular as well as classical styles. The transferable social and personal skills developed through this course are highly valued by employers and universities and, as such, GCSE Music is suitable as a qualification in itself for those people who enjoy music but don't intend to take it further. It is also suitable for those wishing to study music at A level and beyond.
KS5 Curriculum: The Eduqas Advanced GCE in Music is a stimulating and enriching course. As with GCSE, students will experience the three key areas of performance, composition and appraisal. 60% of the course is based on practical controlled assessment, much of which is externally marked; the remaining 40% is based on a written examination at the end of each year which focuses on 4 areas of study from a variety of musical styles, genres and cultures. The full GCE course is excellent preparation for higher education courses in music, but is equally valuable for non-specialists as a second or third area of study. The course offers a broad and satisfying experience for those who want to conclude their musical studies and develop their skills further. A level music can also lead to a wide range of careers in performance, composition, primary and secondary teaching, music therapy, publishing, promotion and marketing, journalism, and many other areas associated with the music industry. Throughout the course pupils will develop skills as a performer (leading to a recital at the end of the year) and composer (composing to a brief and a free composition). Listening skills are focused on through the study of familiar and unfamiliar music, and understanding how it works.
Homework
Homework will be set every 4 weeks on 'Show my Homework' according to the SFX College Homework policy. Music homework will consist of various tasks based on what they have been learning in accordance to their learning journey.
Out of Hours Activities (what, when, where):
Schola Cantorum – Thursday 

3.10pm to 4.10pm in the Rehearsal room & Friday lunchtime

SFX Worship Band – Wednesday after school in the Rehearsal room    
Keyboard club in MU2 – Monday & Wednesday lunchtime
Music Tech Club in MU1 – Tuesday lunchtime in MU1
GCSE Music Theory Clinic – Thursday lunchtime in Mu1 
GCSE Music Nightowl – Friday after school in Mu1 
Dj workshops in the Rehearsal Room – Wednesday lunchtime
Department Website Links (including exam boards, revision sites etc):
Instrumental Peripatetic lessons 2022/23
Please get in touch with Mr. Stokes in regards to tuition: 
SFX MUSIC DEPARTMENT AUTUMN NEWSLETTER 2022