"Jesus came 'in order that you may have life in all its fullness.' (John 10:10)
St Francis Xavier's strives to build a Catholic Christian community of love and respect to educate young people to meet the challenges of life confidently, to develop their unique talents to the full, and to live out the values of Christ and his Gospel.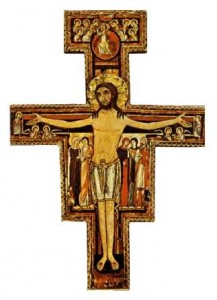 We aspire to be a confident, outward-looking Catholic community in which every member:
enjoys creative, dynamic and reflective learning

is supported, challenged and equipped for the future

values and takes responsibility for themselves and others

helps to build supportive, long-lasting relationships.
Underpinning our aims is collective worship that encourages the spiritual growth of each individual by providing opportunities
to contemplate in wonder the mystery of God

to respond to and celebrate God's love for each individual

to enrich the religious experience of those in our community and give opportunities for growth in faith

to intercede before God for those in need, both inside and outside the school community through prayer and direct social action

to deepen our understanding of Catholic liturgy.
We strive to live out the charism of the De La Mennais Brothers and their Founder Father Jean-Marie De La Mennais, "making Jesus Christ better known and loved by all", through the formation and development of the whole person (intellectual, spiritual, physical, emotional).