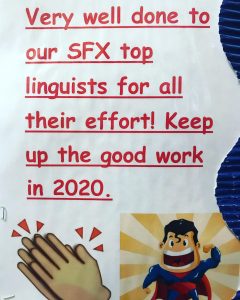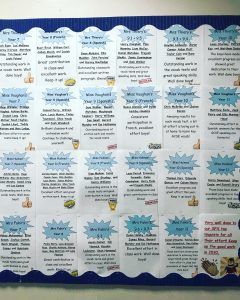 Our board of fame has been updated with our most recent superstar linguists! Well done to all the boys who feature on it. They all received a prize and an email home. Great work boys!
Vision:
The MFL department at SFX offers Spanish and French to all the boys from year 7 onwards. We aim to provide our pupils with strong linguistic skills which will broaden their opportunities to travel and to work in businesses all over the world. We also give them a taste of different cultures and traditions, and pride ourselves in giving them a well-rounded insight to modern life in French and Spanish speaking countries.
Our language teachers understand the importance of using a variety of activities and a wide range of interactive equipment. The inclusion of other subjects in our lessons (such as IT, geography, numeracy and literacy), is also a priority to us as we want our pupils to realise that the use of languages is not restricted to the classroom but reaches all areas of life.
We are very proud of the excellent results achieved by our pupils at both GCSE and A Level in both languages.
Staff:
Mrs C. Thiery – Head of French

Mrs K. Fakir – Head of Spanish

Miss C Hulmes – Teacher of French and Spanish

Mr B. Mitchinson – Teacher of French and Spanish
Courses: 
Key Stage 3 
Year 7

Term 1 Topics & Content:

Talking about yourself

Talking about school

Term 2 Topics & Content:

Talking about my family

Talking about my house and my town

Term 3 Topics & Content:

Talking about my free time

Studying about a trip to Madrid

Year 8

Term 1 Topics & Content:

Holidays

Food and Culture

Term 2 Topics & Content:

Clothes / Fashion

Studying about a trip to Barcelona

Term 3 Topics & Content:

Describing People

Making plans / Daily routines

Year 9

Term 1 Topics & Content:

Term 2 Topics & Content:

Healthy Living

Jobs and future aspirations

Term 3 Topics & Content:

The Spanish speaking world

Festivals 

Studying about a trip to Bilbao
Key Stage 4 –: Edexcel GCSE
Year 10

Term 1 Topics & Content:

Identity and Culture

Sports / Hobbies

Festivals

Social Media

TV / Music

Term 2 Topics & Content:

School

School uniform

Subjects – likes/dislikes

Comparison to primary school

School Trips

Exchanges

Term 3 Topics & Content:

Local area, travel and tourism

Towns and cities

Holidays

Holiday activities

Weather

Year 11

Term 1 Topics & Content:

Future Aspirations, study and work

Future studies

Work experience

Future jobs

Use of languages outside the classroom

Term 2 Topics & Content:

International and Global Dimension / Environment

Environmental problems

How to save the environment

The future of the planet

What you do to protect the environment

Music Festivals

Global Sporting events

Term 3 Topics & Content:

Revision of all 4 skills – reading, writing, listening and speaking

Speaking assessment

Exam preparation
Key Stage 5 – : AQA A Level
Year 12

Term 1 Topics & Content:

Introducing the A Level specification and expectations.

Cementing grammatical knowledge from GCSE

Modern and Traditional values

Term 2 Topics & Content:

Spanish Regional Identity

Cyber Space

Modern day idols

Term 3 Topics & Content:

Equal Rights

Cultural Heritage

Year 13

Term 1 Topics & Content:

Social Issues

Current affairs

Literature – La Casa de Bernarda Alba

Film – El Laberinto del Fauno

Term 2 Topics & Content:

Political Life in Spain

The youth today

Social movements

Term 3 Topics & Content:

Preparation for the speaking assessment

Revision

Exam Practice
Out of Hours Activities (what, when,where):
French club for year 7 – Tuesday 15.10 – 15.30
Night Owl – Year 10 – Wednesday 15:15 – 16:00
                      Year 11 – Tuesday – 15:15 – 16:00
                      Year 13 – Thursday – 15:15 – 16:00
Theatre/Art/Cinema Trips – Annually
University Language Visits – KS4 and KS5
Trips to France and Spain – KS3, KS4 and KS5
Upcoming trips:
Year 11 weekend to Paris in January 2020
Visit from our link French school in Brittany in April 2020
KS3 PGL trip to the south of France in July 2021
Department Website Links (including exam boards, revision sites etc):
Links to Learning Journeys
French Learning Journey:
https://docs.google.com/presentation/d/1bBRaluWxYr9XPeYBzpFg3TPNU6hl6ZCxlxk6odtrE7M/edit?usp=sharing
Spanish Learning Journey:
https://docs.google.com/presentation/d/1cJdXNb3IyV3De5hD3e_LFYjSruMp3mDJFMFeYCZqlKU/edit?usp=sharing
Curriculum Maps
French Curriculum Maps
Spanish Curriculum Maps