Welcome to SFX Library!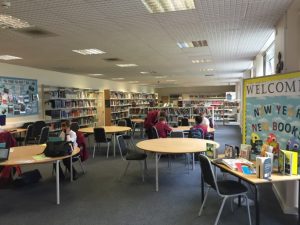 Reading
Aim to read for at least 30 minutes each day.  It will help you maintain your comprehension and vocabulary skills not just in English but in all your subjects.  It doesn't have to just be books – any reading is good:
Books: If you still have a school library book out – aim to finish it.
Some classic texts which are out of copyright are available freely online on websites like Project Gutenberg.  for example, Frankenstein; The Strange Case of Dr Jekyll and Mr Hyde; Pride and Prejudice; A Christmas Carol; The Adventures of Tom Sawyer.
Use your local library as some are offering a telephone ordering service.
Use your ebook service at your local library:
magazines & newspapers (paper or online).  The newspaper aimed at Years 7-9 that is stocked in the library (First News) is available in electronic format each week on the KS3 Google English Google Classroom.  Older pupils might like to try the Guardian online.
Good quality websites  (try the Long Reads on the BBC News app, for example).  Be careful of fake news.  For more information about disinformation and how to spot fake news, see https://www.bbc.co.uk/bitesize/tags/zr2yscw/fact-or-fake/1
Liverpool Children's Festival of Reading: https://www.liverpoollearningpartnership.com/what-we-do/reading-for-pleasure/liverpool-childrens-festival-of-reading/
Library
Search the library catalogue to see what books you can borrow – SFX Library Catalogue
Our library is centrally located in school next to the hall and is a facility which is extremely popular with all our pupils, for reading, doing homework, revision and using the computers.
We have many wonderful books here, from classics to the latest bestsellers, from quick reads to graphic novels – there really is something for everyone.
I am currently available in the library from 8.00am to 4.00 pm to help you with finding a book that interests you and to help you use the computers.  You can email me for help – [email protected]
Opening Hours
From 8.00am until form time
Breaktimes & lunchtimes
After school until 4.00pm
How to use the library
Borrowing books
You may borrow up to 3 books at a time.  Once you have chosen a book, take it to the library desk to be loaned to you on the computer by library staff.  Books can be borrowed for up to 2 weeks.  The date they are due to be returned is displayed on the date label at the front of the book.  It is important to come to the library desk to return your books on or before the date they are due back as other students might want to use them.  If you need them for longer, that's fine –  you can extend the borrowing time by renewing them (see below)
Renewing books
If you haven't finished reading your books by the time they are due back, you can renew them by either: simply bringing them to the desk on or before the due date and asking library staff to renew them for you so that you can then keep them for a further two weeks.  Or, by logging into your library account on Accessit and renewing them yourself.  You may need to ask for help the first time you do this.
Reserving books
If the book you wish to borrow is out on loan to another person, you can reserve the book.  This means the book will be put aside for you by library staff when it is returned by the current borrower and a note or email will be sent to you informing you that the book is available for you to collect.  You can arrange this by asking library staff to reserve it for you, or by logging into your library account on Accessit and reserving the item.