Firstly, we'd like to take this opportunity to say how much of an honour it is to be Head Boy and Head Girl of St Francis Xavier's College. To be picked for the roles is a real achievement and we are both full of pride to not only be part of this school's incredible history, but also to be a Xaverian in general.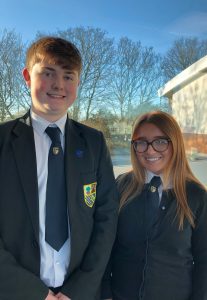 St Francis Xavier's College is an amazing and positive place that sticks with students past and present for the rest of their lives. The school obtains a special place in people's hearts and only a Xaverian will know the feeling that it gives you. Our aim is to do everything we can to help give valuable information to senior members of staff from a student's point of view and to be the students' voice for the school and 6th Form. We would like to think that we will have a positive impact on the school for the short and long term. We welcome feedback from other students, parents or even teachers that we could pass on in order to try and improve the school further, as there is always room for improvement. We want the students to know that your opinions and views are an important asset to our roles, and that we are one of you!
We would both strongly recommend St Francis Xavier's College to anybody looking to apply for a place after finishing Primary School or even applying to the 6th Form. This school has an incredible system of allowing your son to quickly settle into Secondary School life and has all the facilities in order to support your child as much as possible throughout their school life. It is essential for your child to be able to feel comfortable and happy in new and unfamiliar surroundings, and we see it as a priority to settle them in as best we can. The 6th Form has an incredible support team and helps students decide their next step in life and what their future holds, something that many people struggle to decide. The school has incredible facilities such as a new science block and a fantastic music department as well as many more throughout the school. In addition, the school provides amazing opportunities for students to participate in such as school trips and holidays.
St Francis Xavier's College is a great place for people to grow and it should always be seen as a brilliant place for people to develop personally as well as academically. 
Many thanks
Charlie McTigue (Head Boy) and Jess Woods (Head Girl).