"The more you read, the more you know. The more that you learn, the places you'll go."
― Dr. Seuss, I Can Read With My Eyes Shut!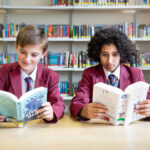 At SFX we believe strongly in the quote above by Dr. Seuss; as a result, reading has become a core part of everyday life at SFX.
As part of our Whole School Reading Strategy, "SFX Reads", students take part in form time reading four days a week for 15mins each day. Form tutors read aloud to their form class as students follow along with their SFX Reads bookmark.
Key benefits of reading together:
A social experience that builds a sense of community and belonging
Regular modelling of fluent, passionate reading delivered by tutors
Exposure to countless words and phrases not found in everyday dialogue
Coverage of a wealth of themes and concepts valuable for personal development
On-going improvement in independent reading skills
The books each year group read follow the PSHE themes of spiritual, cultural, moral and social and include a range of both fiction & non-fiction texts. Throughout the year students will read the following books:
Year 7
Name of Novel and Author
PSHE Theme
Synopsis
The Lion, the Witch and the Wardrobe – C.S. Lewis
Spiritual
Four adventurous siblings―Peter, Susan, Edmund, and Lucy Pevensie― step through a wardrobe door and into the land of Narnia, a land frozen in eternal winter and enslaved by the power of the White Witch. But when almost all hope is lost, the return of the Great Lion, Aslan, signals a great change . . . and a great sacrifice.
The Boy in the Striped Pyjamas – John Boyne
Moral
Nine-year-old Bruno knows nothing of the Final Solution and the Holocaust. He is oblivious to the appalling cruelties being inflicted on the people of Europe by his country. All he knows is that he has been moved from a comfortable home in Berlin to a house in a desolate area where there is nothing to do and no one to play with. Until he meets Shmuel, a boy who lives a strange parallel existence on the other side of the adjoining wire fence and who, like the other people there, wears a uniform of striped pyjamas.

Bruno's friendship with Shmuel will take him from innocence to revelation. And in exploring what he is unwittingly a part of, he will inevitably become subsumed by the terrible process.

Wonder – R. J. Palacio
Social
Auggie wants to be an ordinary ten-year-old. He does ordinary things – eating ice cream, playing on his Xbox. He feels ordinary – inside. But ordinary kids don't make other ordinary kids run away screaming in playgrounds. Ordinary kids aren't stared at wherever they go.

Born with a terrible facial abnormality, Auggie has been home-schooled by his parents his whole life. Now, for the first time, he's being sent to a real school – and he's dreading it. All he wants is to be accepted – but can he convince his new classmates that he's just like them, underneath it all?

The Boy at the Back of the Class – Onjali Rauf
Cultural
Told with heart and humour, The Boy at the Back of the Class is a child's perspective on the refugee crisis, highlighting the importance of friendship and kindness in a world that doesn't always make sense.

There used to be an empty chair at the back of my class, but now a new boy called Ahmet is sitting in it.

He's nine years old (just like me), but he's very strange. He never talks and never smiles and doesn't like sweets – not even lemon sherbets, which are my favourite!

But then I learned the truth: Ahmet really isn't very strange at all. He's a refugee who's run away from a War. A real one. With bombs and fires and bullies that hurt people. And the more I find out about him, the more I want to help.

That's where my best friends Josie, Michael and Tom come in. Because you see, together we've come up with a plan. . .
Year 8
Name of Novel and Author
PSHE Theme
Synopsis
Skellig – David Almond
Spiritual
The bestselling story about love, loss and hope that launched David Almond as one of the best children's writers of today.

When a move to a new house coincides with his baby sister's illness, Michael's world seems suddenly lonely and uncertain.

Then, one Sunday afternoon, he stumbles into the old, ramshackle garage of his new home, and finds something magical. A strange creature – part owl, part angel, a being who needs Michael's help if he is to survive. With his new friend Mina, Michael nourishes Skellig back to health, while his baby sister languishes in the hospital.

But Skellig is far more than he at first appears, and as he helps Michael breathe life into his tiny sister, Michael's world changes for ever . . .

Welcome to Nowhere – Elizabeth Laird
Moral
Twelve-year-old Omar and his brothers and sisters were born and raised in the beautiful and bustling city of Bosra, Syria. Omar doesn't care about politics – all he wants is to grow up to become a successful businessman who will take the world by storm. But when his clever older brother, Musa, gets mixed up with some young political activists, everything changes . . .

Before long, bombs are falling, people are dying, and Omar and his family have no choice but to flee their home with only what they can carry. Yet no matter how far they run, the shadow of war follows them – until they have no other choice than to attempt the dangerous journey to escape their homeland altogether. But where do you go when you can't go home?

The Goldfish Boy – Lisa Thompson
Social
Twelve-year-old Matthew is trapped in his bedroom by crippling OCD, spending most of his time staring out of his window as the inhabitants of Chestnut Close go about their business.

Until the day he is the last person to see his next door neighbour's toddler, Teddy, before he goes missing.

Matthew must turn detective and unravel the mystery of Teddy's disappearance – with the help of a brilliant cast of supporting characters.

I am Malala – Malala Yousafzai
Cultural
When the Taliban took control of the Swat Valley in Pakistan, one girl spoke out. Malala Yousafzai refused to be silenced and fought for her right to an education.

On Tuesday, October 9, 2012, when she was fifteen, she almost paid the ultimate price. She was shot in the head at point-blank range while riding the bus home from school, and few expected her to survive.

Instead, Malala's miraculous recovery has taken her on an extraordinary journey from a remote valley in northern Pakistan to the halls of the United Nations in New York. At sixteen, she became a global symbol of peaceful protest and the youngest nominee ever for the Nobel Peace Prize.

I AM MALALA is the remarkable tale of a family uprooted by global terrorism, of the fight for girls' education, of a father who, himself a school owner, championed and encouraged his daughter to write and attend school, and of brave parents who have a fierce love for their daughter in a society that prizes sons.

I AM MALALA will make you believe in the power of one person's voice to inspire change in the world.
Year 9 
Name of Novel and Author
PSHE Theme
Synopsis
The Secret Garden – Frances Burnett
Spiritual
When Mary Lennox is sent to Misselthwaite Manor to live with her uncle, everybody says she is the most disagreeable-looking child ever seen. It is true, too. Mary is pale, spoilt and quite contrary. But she is also horribly lonely. Then one day she hears about a garden in the grounds of the Manor that has been kept locked and hidden for years.

And when a friendly robin helps Mary find the key, she discovers the most magical place anyone could imagine…

Stone Cold – Robert Swindells
Moral
A tense thriller plot is combined with a perceptive and harrowing portrait of life on the streets as a serial killer preys on the young and vulnerable homeless. Link, aged 17, is distrustful of people until he pairs up with Deb, another homeless youngster. But what Deb doesn't tell him is that she's an ambitious young journalist on a self-imposed assignment to track down the killer and she's prepared to use herself as bait …
Pigeon English – Stephen Kelman
Social
Eleven-year-old Harrison Opoku, the second best runner in Year 7, races through his new life in England with his personalised trainers – the Adidas stripes drawn on with marker pen – blissfully unaware of the very real threat around him.

Newly arrived from Ghana with his mother and older sister Lydia, Harri absorbs the many strange elements of city life, from the bewildering array of Haribo sweets, to the frightening, fascinating gang of older boys from his school. But his life is changed forever when one of his friends is murdered.

As the victim's nearly new football boots hang in tribute on railings behind fluorescent tape and a police appeal draws only silence, Harri decides to act, unwittingly endangering the fragile web his mother has spun around her family to keep them safe.

Black History Matters Robin Walker
Cultural
Black history is an integral part of world history. From the injustices of the past and present, we can learn and be inspired to make the world we live in more fair, equal and just.

Black History Matters chronicles thousands of years of Black history, from African kingdoms, to slavery, apartheid, the battle for civil rights, the global Black Lives Matter protests of 2020 and much more.

Important and inspiring Black personalities, from Olaudah Equiano to Oprah Winfrey, are highlighted throughout, while achievements and progress are balanced alongside a look at the issues that continue to plague Black communities.

#Blacklivesmatter is a powerful international movement, designed to raise awareness of and end ongoing injustice towards black people. This book is designed to connect with that movement and offer an important resource for all young readers during Black History Month and beyond.
KS4
Name of Novel and Author
PSHE Theme
Synopsis
A Very Large Expanse of Sea – Tahereh Mafi
Spiritual
It's 2002, a year after 9/11, and Shirin has just started at yet another new high school. It's an extremely turbulent time politically, but especially so for a sixteen-year-old Muslim girl who's tired of being stereotyped. Shirin is never surprised by how horrible people can be. She's tired of the rude stares, the degrading comments – even the physical violence she endures as a result of her race, her religion, and the hijab she wears every day.

Shirin drowns her frustrations in music and spends her afternoons break-dancing with her brother. But then she meets Ocean James. He's the first person in forever who really seems to want to get to know her. It terrifies her -they seem to come from two irreconcilable worlds – and Shirin has had her guard up against the world for so long that she's not sure she'll ever be able to let it down.

The Hate You Give – Angie Thomas
Moral
Sixteen-year-old Starr lives in two worlds: the poor neighbourhood where she was born and raised and her posh high school in the suburbs. The uneasy balance between them is shattered when Starr is the only witness to the fatal shooting of her unarmed best friend, Khalil, by a police officer. Now what Starr says could destroy her community. It could also get her killed.

Inspired by the Black Lives Matter movement, this is a powerful and gripping YA novel about one girl's struggle for justice.

The Secret Diary of Adrian Mole – Sue Townsend
Social
"Friday January 2nd

I felt rotten today. It's my mother's fault for singing 'My Way' at two o'clock in the morning at the top of the stairs. Just my luck to have a mother like her. There is a chance my parents could be alcoholics. Next year I could be in a children's home."

Meet Adrian Mole, a hapless teenager providing an unabashed, pimples-and-all glimpse into adolescent life.

Telling us candidly about his parents' marital troubles, The Dog, his life as a tortured poet and 'misunderstood intellectual', his love for the divine Pandora and his horror at learning of his mother's pregnancy, Adrian's painfully honest diary is a hilarious and heartfelt chronicle of misspent adolescence.

Daz 4 Zoe – Robert Swindells
Cultural
It is the year 2051 and Britain is a divided country, deliberately divided by economic and education strategies. Half the population shelters in fortified suburbs (Newtown); the other half resentfully smoulders in sealed-off ghettoes. This is the story of privileged Zoe and Daz, the semi-literate ghetto dweller, whose brother was executed for raiding with the underground resistance movement. When Zoe and her friends go slumming one day, she meets Daz – and it's Romeo and Juliet all over again. But their impossible relationship has far-reaching consequences …
Reading at home is the most valuable experience you can provide your child; reading with them, in front of them and to them – we are never too old to enjoy being read to.
We recognise that encouraging teens to read is not always easy. As children get older, with lots of other activities competing for their time, how can you encourage them to make time for reading? Fear not, we have complied a list of practical tips and strategies to help you foster a love of reading at home:
Make time to read together if you don't already. 10 minutes each day is a great start. Let your son choose what to read, rather than choosing what you think she should read.
Encourage your son to read magazines, comics, newspapers and the Internet as well as books.
Read yourself! It doesn't matter what it is – pick up a newspaper or magazine, take a look at a cookery book, read a computer manual, enjoy some poetry or dive into a romance or detective novel. Whenever possible, encourage your son to join in – if you're cooking, ask him to read the recipe; if you're deciding what to watch on TV, ask him to read out the listings. Menus, bus timetables, instructions, TV guides, post, leaflets, signs – encourage all forms of reading.
Talk to your son about books or magazines you have enjoyed, share your teen favourites.
Visit the local library together. It's always fun choosing new books to read, and keep an eye out for special author events at the library or local bookshops.
Found a book they love? – Watch TV and film tie-ins and books about any other interests such as music.
Encourage your son to swap books with friends and family – it'll give them a chance to read new stories, and get them talking about what they're reading.
Help your child to work out what an unfamiliar word means by getting them to read the rest of the sentence and look for clues.
Build up the number of words your child knows (their vocabulary). Learn a new word every day! Learn your new word together as a family. To help them learn these words, you could ask your child to explain to you what they mean.
Register for free to access a range of ebooks, audiobooks and magazines offered by Liverpool City Council by clicking here. https://www.readliverpool.co.uk/
For more information about supporting your child with reading at home and PiXL Reading Secondary Newsletters for Parents: