Our Beginnings:
The college was founded in 1842 in association with Stonyhurst College, Lancashire by the Society of Jesus,  Roman Catholic religious order.
1842–1843: Soho Street
The college had a rector from 1842 to 1844. It had two pupils.
1843–1845: St. Anne Street
A year later, it had a dozen pupils. Father Francis Lythgoe moved the college to St. Anne Street where it stayed until 1845.
1846–1877: Salisbury Street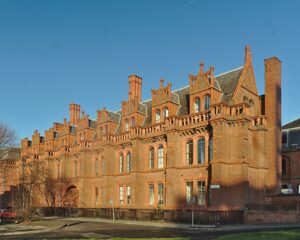 In 1844 Father Johnson took over from Father Francis Lythgoe and moved his 24 pupils to the newly opened Presbytery on Salisbury Street. Father Collyns took over the college in 1853.
With more than 50 pupils the rector Father Collyns decided that a new premises was needed. By 1856 the college had its own building built a
longside the Presbytery and in 1877 a new college was built on 6 Salisbury Street.
Second college building
The newest Salisbury Street building was designed by Henry Clutton, a Catholic architect. He used the designs of Father Vaughan as the bases of his designs. The new college was completed in the summer of 1877 and cost £30,000.
Move to Woolton
In 1961 the college was transferred as a grammar school to its present twenty-six-acre site at High Lee, Woolton. From 1984 to 1990 the Lower School site for Years 7, 8 and 9 was located on Queens Drive (Formerly Cardinal Newman RC) in Wavertree.   Later, the Lower School was re-sited with the Upper School at High Lee.  In September 2000 this site was added to and the De La Mennais Sixth Form Centre was opened.   Building work further took place in 2015 with the addition of a specialist Science block, a state of the art Sport Hall and the redevelopment of Music and Performance classrooms.